The St. Louis Cardinals sent some of the greatest players in franchise history to serve in the second World War. 
Included in that group is Hall of Famer Stan Musial. According to the National Baseball Hall of Fame:
In 1944, Musial was 23 years old and batted .347 to guide the Cardinals to the World Series. He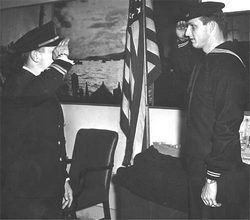 passed his Naval physical examination in June 1944 and reported for induction on January 23, 1945. Musial was assigned to Bainbridge Naval Training Center in Maryland on March 17, and played for the Bainbridge NTC Commodores baseball team. The Commodores line-up included Lum Harris, Dick Wakefield, Thurman Tucker, Stan Spence and Dick Sisler, and Musial credits his time at Bainbridge with helping him develop as a power hitter, stating that he altered his stance to pull the ball so he could hit more home runs to entertain the servicemen.
In June 1945, he was assigned to Special Services and sent to Hawaii. Attached to a ship launch unit at Pearl Harbor, he ran a launch out to battle-damaged ships that came in, ferrying personnel back to port. Three or four afternoons a week he played baseball for the Ship Repair Unit in the 14th Naval District League. "Ten thousand every game," he recalled. "You know, there were so many men around Hawaii, goddamn thousands and thousands of guys, so this was good diversion for them." In August 1945, he even resurrected his pitching career, blanking an Army all-star team with a four-hitter in a game at Maui.
In the fall of 1945, Musial's father fell seriously ill at home in Donora. Stan was granted emergency leave orders to visit home. After his father recovered he was assigned duty in Philadelphia and back at Bainbridge .
Musial was discharged from the Navy on March 15, 1946, and promptly returned to the Cardinals. He enjoyed an MVP season batting .365 with 103 RBIs. At the time of his retirement in 1963, Musial held 17 major league, 29 National League, and 9 All-Star game records. He was elected to the Baseball Hall of Fame in his first year of eligibility in 1969.
Dave Bartosch
Murry Dickson
Stan Musial